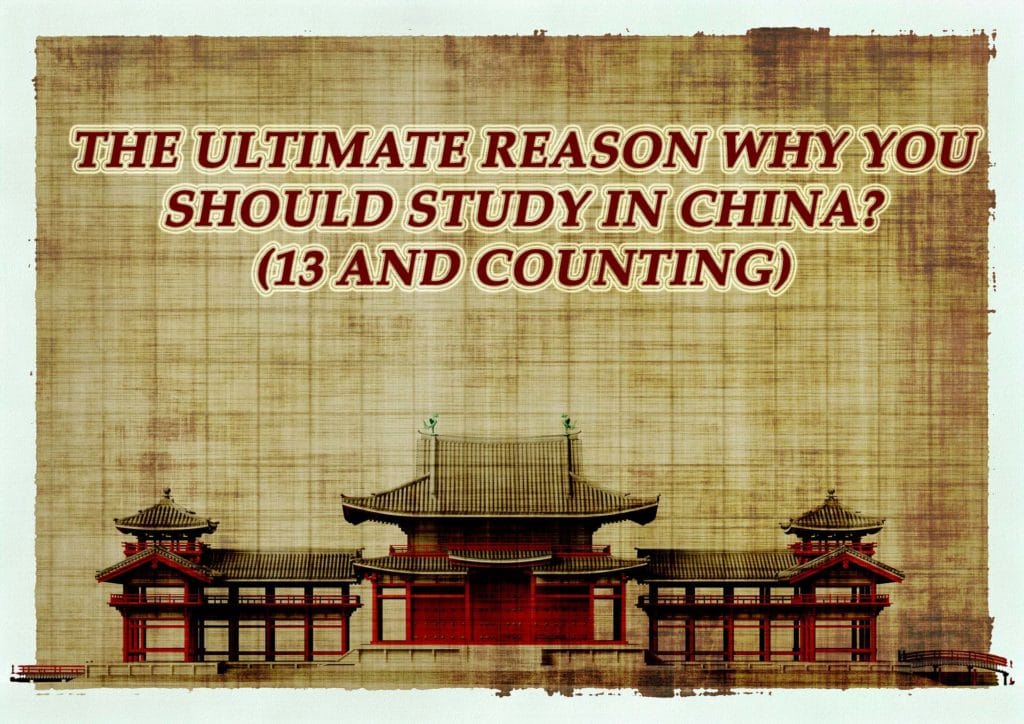 China is one of the fastest-growing countries in the world. It also boasts of a great and rich cultural history as well as a hub for science and technological advancements. It is because of these and many reasons that can answer the question that many young people may have: why study in China?
This guide will walk you through some of these reasons and more and help you understand why you should consider studying in China.
You?ll Be Part Of The Future
China, has over the recent past, grown exponentially to become a hub for development with cutting edge advances in sciences and technology. In the last twenty years, more than half of the population now lives in urban centers showing growth in both cities and leading to mushrooming of multi-use urban areas.
Studying in China allows you to have a front-row seat to the rapid development that is taking place in the country from the building of new roads, railways as well as high-rise buildings. It also provides you with an opportunity to be a part of this rapid progression. As you watch this growth, you can study the factors influencing these developments and have a better understanding of how this powerhouse country was able to achieve so much growth in so little time.
Chinese Universities Have A Great Reputation
For many years, the West had always been considered as the only destination for those seeking to study in well-recognized universities; however, over time, that narrative is quickly changing. There has been a steady increase in the number of prestigious universities in China that are also competing at the global space.
This is at a time where major academic powerhouse countries in the West are losing their footing and seeing a decline in their international student numbers. The continued economic growth in China has also allowed for the advancement in the cause of these institutions, as such opening doors to more international students.
This means that as a student, you want to have studied at an institution that is not only well known but recognized. Chinese universities offer you an opportunity to do this at an affordable cost. This will also prove beneficial for your academic credentials when the season of job hunting arrives.
The growth of China as an economic hub has also seen an increase in options of cities where students can study. There are now more options to choose from than ever before with more and more institutions outside of major famous cities like Shanghai also getting recognition.
Students are also now able to learn in English for those who do not wish to spend an extra two years learning Mandarin while still receiving the same outstanding, high-level quality of education the others will receive.
Studying In China Offers You Marketability
China boasts of a vast, vibrant, and highly diverse culture. This allows for students who come to study in China to gain a great idea of what different cultures possess and learn from these differences. China is also the home of one the world?s most spoken languages, Mandarin, which is a requirement for you to learn as you live in the country. In addition to being a hub of economic growth.
All these factors place students who choose to study in China at the forefront of the market as a suitable candidate. Many employers are looking for versatile candidates who have a considerable amount of exposure and have a wide array of skills, such as speaking a foreign language, in this case, the Mandarin.
Studying in China also presents you as an individual who is willing to take risks and is not afraid of challenging situations. This is a significant factor that employers are now considering when hiring besides the experiences that will influence both you and your work ethic.
You Don?t Have To Break A Bank To Study In China
Many students who are hoping to study abroad always lose faith when the time to apply comes about because of cost. Furthering your education can be an expensive pursuit that can lead to copious amounts of debt. However, this does not have to be your story.
The Chinese government is investing a lot of money in providing financial aid to international students through a wide array of funding opportunities, including government scholarships. In addition to scholarships, the fee paid in Chinese universities is only a fraction of what is paid in other universities in other developed countries. If you consider the increased recognition Chinese universities are receiving, then studying in China becomes not only a great adventure but one that will not dent your wallet.
In addition to this, people can take the study in China summer programs where they get an intense summer packed with adventure and learning without breaking the bank, especially for people on a tight budget. You will also continue to earn academic credits, and it is an excellent way to test the waters before you commit to a full-time program in any of China?s prestigious institutions.
China is also a relatively cheap place to live in. This is a factor that could appeal significantly to students who usually do not have a lot of money, especially when they are far away from family and friends.
You can also cut costs by being smart about where you live. You have the option of a homestay, where you live with a family and get a deep and rich cultural experience without thinking about food or rent. You could also stay in a dormitory with other students and get the full student experience. However, if you prefer a more independent lifestyle, then you can always rent a cheap apartment and live on your own or share with a friend.
In addition to this, the Chinese government adjusted the visa policies for foreigners, allowing students to work on a part-time basis, and even take up internships while they continue to pursue their studies. This will be a great way to supplement income for your stay abroad. A part-time job or a paid internship can help you get extra cash for tuition fees while still adding work experience to your resume.
Immerse Yourself In The Culture
One of the greatest things about studying in China is the rich cultural experience you will have. China is one of the few places in the world that has retained most of its cultural heritage and still honors many of its traditional ceremonies and practices. This is evident in the celebration of things such as the Chinese New Year which sees many locals indulge in days of feast and celebration.
Chinese food which is celebrated worldwide as an excellent cuisine can now be experienced from the real experts. Studying in China allows you to indulge in all the local cuisine, the practices, and rituals that the locals have around their food. If you appreciate diversity in your palette, then Chinese cuisine will definitely blow you away.
Since China has such a large population, there a number of different ethnic groups that are spread across the country each with their own unique heritage. There are significant differences in their local dialect and even the food they serve. This will definitely have a great impact on how you see the world and interact with others, and also help avoid the issues that come with ethnocentrism in the long run.
You Get To Learn A New Language
The Chinese language is not only widely spoken across the country, but across the world as well. As China continues to grow as an economic powerhouse, having proficiency in the Mandarin language will serve as a critical currency to have with you as you go through the world.
Mandarin is also important for you as you study and live in China, as many of the locals may not be fluent in English. Proficiency in the language allows to communicate seamlessly and helps you get by.
Learning Mandarin is an exciting new experience, although not one without its challenges. Nonetheless, if you can continue to learn the language, your stay will not only appreciate in value because you can communicate with locals and read the label in stores, you will also see improvement in your cognitive abilities such as improved memory. You will also get to write in Chinese characters which are pretty cool and network with the people.
Studying In China Allows You To Travel
China is a vast country with many scenic and picturesque places to see whether you are a history buff, beach body, or avid mountain climber. All these places are already there waiting for you. From the Great Wall to the Forbidden City, China is not short of sights, both human-made and natural for you to see.
In addition to sightseeing, you will have the opportunity to visit the various regions and districts in China, each with their own distinct cultural practices and cuisines. Travelling will also bring to life the rich history of China and Chinese civilization that dates back thousands of years.
It will teach you about inventions made in China such as gunpowder and learn about the growing China?s influence on the larger Eastern Asia front. This will not only open your mind to the differences in the world but give you a newfound sense of appreciation for different cultures and how they evolve.
Studying In China Will Challenge You
If you are looking for an experience that is out of the ordinary, then studying in China might be you. However, moving away from home will push you out of your comfort zone. You will no longer have your family or close friends to bail you out from tough situations.
You will also lose the comfort that comes with the familiarity of your hometown. In China, you could find yourself lost and unable to communicate with others because of the language barrier. You will also go through the culture shock that comes with being in a new place. All these factors and more can definitely overwhelm you and can be very challenging.
However, these challenges will not only help you grow as an individual, but they will also offer you a great learning experience on your limitations and strengths. The experiences will also widen your perspective on life and impact the way you feel about your capabilities as well. It will also make you hardy, an important quality to have in adult life, against the many uncertainties of the world. Overall, studying in China is an opportunity to not only push the boundaries for yourself but for those who will come after you because of the impact you will have made.
Studying In China Is A Unique Learning Experience
Studying in China includes academic opportunities in courses that may not be found in many other institutions around the world. Outside of academics, China also provides additional avenues for learning in other fields as well. For instance, if you are interested in Kung Fu, you?ll meet the masters in China; if you wish to master Tai chi, then you are in the right place. People who might be interested in how other people in the world worship might also benefit greatly from learning from the Buddhist monks and other religious leaders. Whatever, unique interest you might have, China is probably the best place to pursue it with a profound cultural background to look into.
You?re Part Of A Growing Trend
If you are thinking about studying in China, then you are not alone. Many people across the globe are also making China their country of choice when seeking higher education, and this is not without good reason. As a premier travel destination, many foreigners are making their way to China to experience the culture and be part of the growth, and the education sector has not been left behind.
As the country continues to grow economically as well as advance its institutions, it will not be a surprise to see many more people choose China as their study abroad option. Although moving can seem scary, it should offer some reprieve that you are not alone in that journey.
Studying In China Helps You Become A Global Citizen
With China on the fast track to being the world?s development hub, you are bound to meet new people and have multiple experiences. It, however, goes beyond learning Mandarin and eating authentic Chinese cuisines. Studying in China will allow you the opportunity to meet other students from across the world with whom you can network and share lifelong experiences.
Studying and living in China opens your eyes to the more extensive network that you are now a part of. It is essential to take this once-in-a-lifetime opportunity to connect with these people who will have a significant impact on how you go through a world that is becoming highly interconnected.
You Acquire New Useful Skills
As we have seen, living abroad can be challenging and stressful. However, this is a great way to learn many useful skills. You will learn to pay your rent on time, cook and clean for yourself. You will figure out how to fix your car, and you will navigate communicating basic needs in a language that is completely foreign to you.
Living in China will also teach great virtues such as patience and tolerance when it comes to dealing with the differences in culture. You will also learn perseverance and acquire newfound respect for your own personal journey of growth leading to a spike in self-esteem.
Open Yourself Up To A New Adventure
Studying and living in China will offer you multiple adventures for you to experience. Whether it is the easy task of purchasing an item, something that should take relatively no time but could see you spend hours trying to find out the correct way to translate. Another source of adventure is trying the different kinds of food. As we had earlier stated, Chinese cuisine is far richer than what you find at your local Chinese restaurant at home, trying all these different foods could prove to be an adventure, in and of itself.
There is also the option of taking up a new hobby, such as learning calligraphy or martial arts. Whatever the case, studying in China can be one big adventure that you can tell stories about for years to come.
Now You Are Ready
If you were curious about what to expect from studying in China, now you know and are ready to make a choice and take the plunge into a new and exciting phase of your life. As a young adult, choosing to study abroad is not only a risk worth taking, but also an opportunity to impact other facets of your future life to come.
You stand the chance of a gaining a rich cultural experience, making wonderful and unique memories, as well as making a great career progressive move ? all by choosing to study in what is currently one of the world?s largest development hubs.
If you still need an answer to why you should study in China, then take this as the silver bullet: China offers you a truly unique chance to study, to travel, to have the time of your life, to learn, to make global connections and to experience the rich Chinese culture all at once.
You May Also Like!
China?s globally respected universities continue to make a mark in terms of academic excellence. Coupled with the country?s impressive economic growth in recent years, it comes as no surprise that Chi…
China is one of the fastest-growing countries in the world. It also boasts of a great and rich cultural history as well as a hub for science and technological advancements. It is because of these and …
Maybe you have a great interest in Chinese history and culture. Maybe you are in search of an institution with cutting edge technological resources for its students, or maybe you just need a new exper…